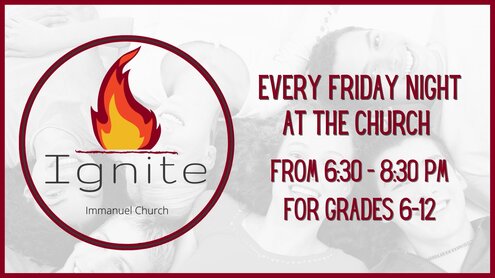 We have an active vibrant teen ministry at Immanuel Church. Led by Sherry West, who has over 15 years of experience working with students, our goals are:
To see teens become life-long followers of Jesus Christ
To connect Bible knowledge and principles to their lives and struggles
To see them become an active part of the whole church family
To create a fun and welcoming environment where they can invite their friends
How to get involved:
Our youth group Ignite is expanding! Beginning April 1st we are meeting EVERY Friday from 6:30 to 8:30. All students from grades 6th-12th are welcome! We will continue meeting for Ignite in our current format every other Friday evening, AND in addition, we're excited to be adding "Ignite Connect", a teen-centered bible study, on the opposite Friday nights! Any questions please contact Sherry West @ sherry@immanuel-ny.com.
JUNIOR HIGH BOYS
Paul Guenette
(518–466–4563)
Sam Kondracki
(518-590-9842)
JUNIOR HIGH GIRLS
Kelly Post
(518-238-8536)
Laura Getz
(518-369-5979)
SENIOR HIGH GIRLS
Sherry West
(518-322-1690, sherry@immanuel-ny.com)
Abby Guenther
(518-763-8930)
SENIOR HIGH BOYS
Scott West
(518-466-7446)
Ethan Booth
(518-935-7647)
Ignite Profile and Social Media Policy.pdf
World Changers Mission Trips - Each Summer we go to some needy area and do construction work during the day and gather with 200-300 other teens at night for a worship retreat.